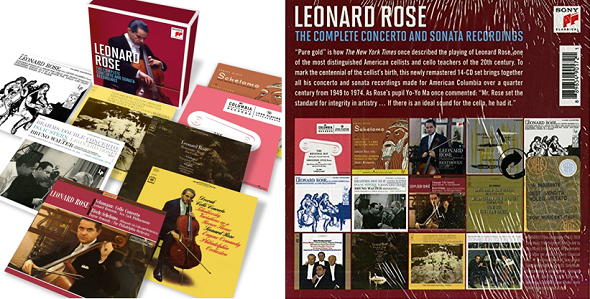 The Greats (Jun 30, 2018)
"Leonard Rose — The Complete Concerto and Sonata Recordings"
To mark the centenary of the birth of Leonard Rose (July 27, 1918 – November 16, 1984), Sony Classical has released a 14-CD set of concertos and sonatas which Rose recorded from 1949 to 1974. This commemorative set is available for purchase at Amazon.
The Greats (Mar 20, 2018)
Celebrating Debussy's centenary
Debussy's cello sonata—featured last month in our Cello moments—was written shortly before his death and is a revered staple of the cello repertoire.
For his centenary, let's enjoy a performance of his rarely performed piano trio (the 3rd and 4th movements played by violinist Daniel Rowland, cellist David Cohen and pianist Natacha Kudritskaya) in which the cello has a most beautiful melody after the short piano introduction.