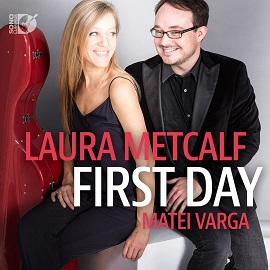 LISTENFirst Day Bragato, Martinů,
Burhans, Ginastera, Enescu, etc.
Hide player Trk 1 Bragato: Graciela y Buenos Aires

Laura Metcalf (vc), Matei Varga (pf)
2016 Sono Luminus
Your Voice from nomination forms:
sjdube (New York, NY, USA)
Laura Metcalf excites on the cello as she plays a fine selection of pieces that are expertly executed. The pieces flow nicely and take you on a journey as you listen. FIRST DAY is a treat from start to end.
Liz (Santa Fe, NM, USA)
This is a refreshingly delightful program. More please!